Free Poetry
The Free Poetry Project releases poems from the page and creates new homes for poetry in public spaces.
Thank you to Eunice Andrada who instigated this collaboration.
You can see more on our Free Poetry page or facebook https://www.facebook.com/freepoetryproject/?fref=ts
Our Beautiful Names
a visual art and poetry exhibition of works from people incarcerated in immigration detention in Australia, in our black sites on Nauru and Manus Island and in Indonesia.  This exhibition has shown in Castlemaine and Kyneton and is available to be shown in other places.  Please contact us should you be interested in hosting it.
Word Travels Story Fest presents a collaboration with Writing Through Fences at Sydney Opera House
Titled Writing Through Fences this was a spoken word performance by three poets, including our Sydney facilitator, Hani Abdile, alongside Kaveh Arya and Yarrie Bangura.  For more information go to: http://www.wordtravels.info/previousevents/2015/10/7/national-final-writing-through-fences-performance
http://www.smh.com.au/entertainment/theatre/word-travels-story-festival-gives-opera-house-stage-to-refugee-poets-20151009-gk212a.html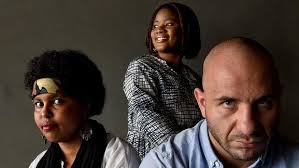 The Arrivalists
The Arrivalists is hosted by Parliament on King and curated by Hani Abdile
http://www.parliamentonking.com/
http://thearrivalists.tumblr.com
"Asylum seekers and refugees sharing poetry, music and stories. If you want to know what's behind the fences, if you want to know who is there, come and hear their voices and share in their stories.
A night of spoken word, performance a slam and a celebration. The night is about creating bridges of understanding between people. This is how we change things. By being here you can be part of it.
Every Wednesday at Parliament on King, from 6.30 pm, from June" .
The Arrivalists is on a break over summer but we will keep you updated.
Mentoring
Various artists and writers resident in Australia form creative relationships with artists and writers incarcerated in the camps.  Sometimes this is a meeting of professionals. Sometimes this is about mentoring as people detained find they want to extend their creative abilities.
Poets in Solidarity
is an anthology of art and poetry by people imprisoned in Australia's black sites on Nauru and Manus Island both in the OPC's, Transit Centre and community camps, and poets and artists resident in Australia.  Ideally each is responding to the other.
We are needing some more poems from people imprisoned on Manus and in the Transit Centre. I have also extended this to those on Nauru both in the OPC or in community. C'mon Fly Camp people send me some more of your work and family camp too.

For those who are not in detention but would like to respond to a poem or art work by someone in detention please email me at wirethroughthe@gmail.com
CLOSING DATE EXTENDED TO MARCH 28.
Women Write Out
This project invites women on Nauru and in other forms of detention to contribute art work and writing for an exhibition in Melbourne that will be held in conjunction with the proposed RAPBS Forum.
ipads for Teens on Nauru
This project asks people to donate new ipads or money so that they can be acquired and sent to the teenagers who are without families and held on Nauru.
You can donate to
Writing Through Fences iPad fund, Bendigo Bank